STREAM 3 Water Filtration System – Complete Pack With Filter and Tap
High quality water filtration system.
Engineered in Germany for great tasting water in your home.
The STREAM 3 water filtration system by STIEBEL ELTRON provides 3-stage water purification down to an incredible 0.01 micron. This filter is controlled by a stainless steel tap installed directly on the sink, while the housing of the filter can be hidden under the sink.
This water purification pack comes in a kit with everything you need to enjoy great-tasting water in your home or office, including water filter tap, housing, filter cartridges, plumbing connections and values and fixings.
Wanting a higher level of water filtration? Click here to view the STREAM 4-stage water filter.

Push & Click Cartridge Replacement
Cartridge replacements are made very easy, thanks to a unique design push and click system. Filter housing contains buttons situation atop of the relevant cartridges. Simply click the button above to eject the cartridge. Water flow is automatically cut off. Insert the new replacement cartridge by pushing inwards until an audible "Click" is heard. Water flow will resume when the cartridge is correctly inserted.
Ultrafiltration (UF) Membrane
The purple cartridge of the STREAM water filter contains a microporous structure hollow fibre which works as an efficiently to remove 100% of bacteria and particles down to 0.01 micron.
Automatic Shut Off
In the case where a cartridge is removed from the housing, or if a cartridge is not inserted correctly, the water
flow will be automatically shut off. This makes replacing filter cartridges clean and safe.
Space-Saving Design
The filter housing is designed to be hidden underneath the sink. The housing features swing connections to assist filter installation in tight spaces.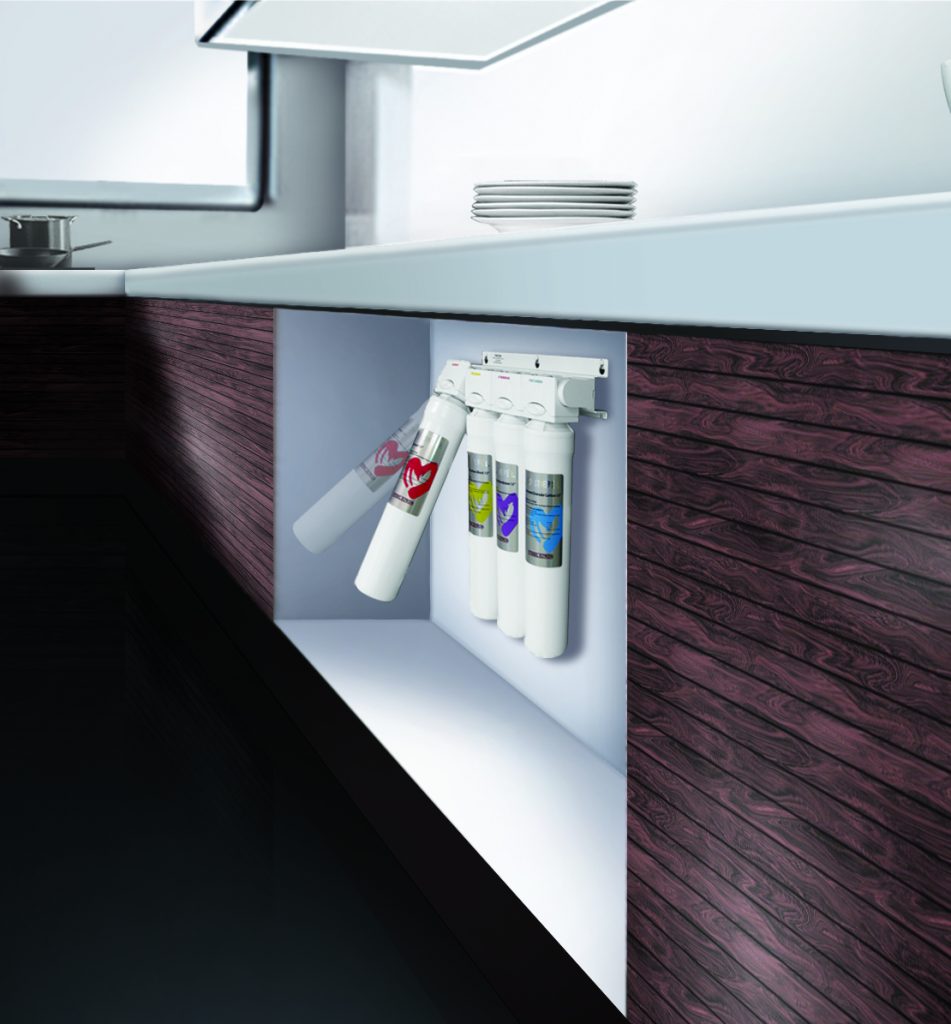 Stages of Filtration and Purification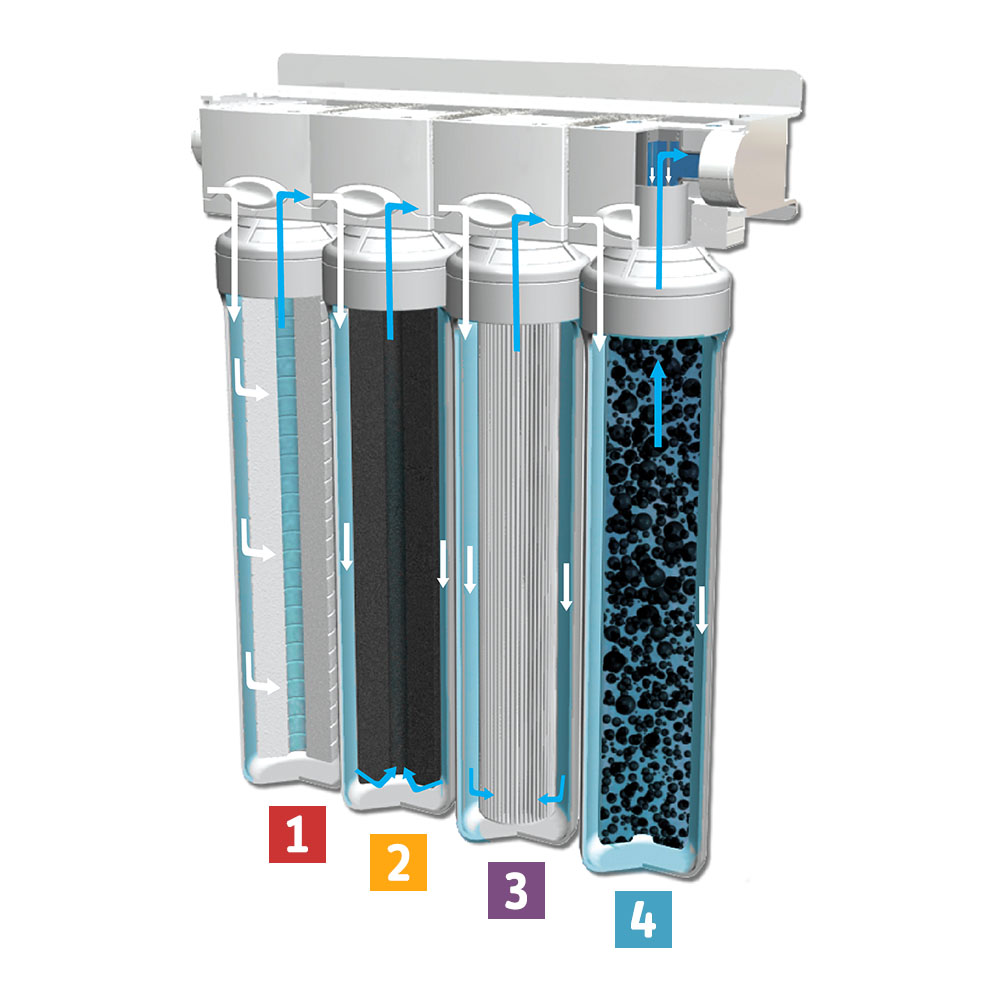 Stage #
Cartridge
Description
Stage 1

Red

– Sediment

Rust
Sediment
Mud
Particles >1 micron

Stage 2

Yellow

– Activated Carbon

Bad taste
Odours
Chlorine
Triholomethanes (THM's)
Volatile Organic Compounds (VOC's)
Pesticides
Herbicides
Heavy Metals
Particles >0.5 micron

Stage 3

Purple

– Ultra Filtration

Bacteria
Cysts
Algae
Particles >0.01 micron

Stage 4

Blue

– Ultra Filtration

Additional odours that occur in the filtration process
Heavy metals

Note: Stage 4 filtration is only for the STREAM 4 water filter system.
How often should I replace the cartridges in my water filter system?
The STREAM 3 water filter cartridges can filter up to 2160 liters depending on the supply water quality. The lifespan of any drinking water filter will be reduced with the greater number of pollutants needing to be removed and filtered (purify).
A benefit of the STIEBEL ELTRON water filter system STREAM 3 is that as the filter cartridges approach the end of their lifespan, the water flow outputted will be reduced. If you notice that your STREAM water filter is running slow, it may simply be time to change filter cartridges.
Click here to view our range of replacement filter cartridges.
Model
STREAM 3
Type of installation
Under sink
Permissible operating pressure
350kPa
Installation requirements
AS/NZS3500 & local requirements
Approvals
WaterMark Lic No. WMKA22044, AS/NZS3497
Height
315.25mm
Width
290.5mm
Depth
90.5mm
Pack includes
Tap x1
Manifold and filter cartridges x1
350kPa PLV x1
Tap fixing kit x1
Plastic tubing (1.5m / 1/4" diameter x1
L connector x1
Screws & plugs for mounting x6
Diverter ball valve x1
Tube connector x2
FAQ (Frequently Asked Questions)
If you have any questions or are unsure of which is the correct filter for your ventilation unit, feel free to contact us and our friendly staff will be willing to assist.